In this week's LEADER Spotlight, we look at how ILDN County Wicklow Partnership, and Clann Credo – Community Loan Finance assisted the Wicklow Regatta Festival.
First staged in 1878 and mentioned in James Joyce's novel, Ulysses., the Wicklow Regatta Festival runs over for weeks leading up to and following the August bank holiday.  Over the years it has progressed into an eclectic festival encompassing, arts, heritage, community, and sport with over 36 events having taken place in recent years. The festival gives a large boost to the town economically and socially and involving locals as well as attracting interest from around Ireland and overseas.
In an effort to increase the profile of the festival and to secure its continued existence, the committee identified the need to increase spend on its digital marketing.  Working with County Wicklow Partnership, LEADER funding was awarded for the purchase of equipment as well as the redesign of the website and development and implementation of a social media campaign.
Commenting on the funding process, John Goodman, Chairperson of Wicklow Regatta Festival said; "The Wicklow Regatta Festival engaged with Clann Credo in 2019 to obtain bridging funding to enable us to receive a grant allocation.  Without the funding we would not have been able to receive the grant.  We found the application process with Clann Credo was relatively straight forward and we were able to reuse a lot of the same documentation required for the grant so the bureaucracy was greatly reduced.  As a voluntary organisation this was most welcome.
The communication with Clann Credo was very good and there was never a problem with contacting them directly.  It was also clear from the outset what was required by us from them and when.  The cost of the bridging finance was very modest.
Without them we would not have been in a position to go ahead with the grant."
Festivals are an important part of community life, forging fond memories and creating community bonds in addition to the economic benefits.  Grant aid from the LEADER programme together with loan finance from Clan Credo can work wonders for communities running events.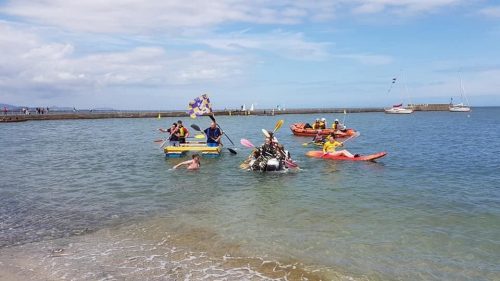 ILDN member, County Wicklow Partnership is a Local Development Company established in 2007 by the merger of three organisations, namely Arklow Community Enterprise, Wicklow Working Together and Wicklow Rural Partnership. This merger was a result of the Government led cohesion process, which required the merger of local development entities to form what we know today as Local Development Companies.
Since its foundation in 2007, County Wicklow Partnership has a strong track record of effective management of social inclusion supports across a range of themes and headings. It has delivered the Local Development Social Inclusion Programme (LDSIP) 2006-2010; the Local Community Development Programme (LCDP) 2011-2014, SICAP 2015-2017, each a precursor to SICAP 2018-2022.
County Wicklow Partnership is charged with delivering a range of national programmes on a county wide level including the current SICAP, LEADER, Tús and a range of other initiatives. It is contracted to deliver SICAP and the LEADER on behalf of the Wicklow LCDC.  It is Overseen by a Board of Directors drawn from the community, local government and key NGO stakeholders.  Board membership includes representatives from the statutory, Local Authority, community & voluntary pillar along with the social partners.
County Wicklow Partnership's history and track record of delivery of social inclusion programmes is backed by a strong development and administrative team that are highly experienced, qualified and firmly connected to the communities and key stakeholders in the County.