Well-known Tipperaryman, Jim Finn, has been appointed Chairperson of Irish Local Development Network, the representative body for the country's 49 Local Development Companies.
Jim is currently chairperson of North Tipperary Development Company and broadcasts extensively on rural and community affairs for Tipp FM. He takes over from Marie Price Bolger who has led the network since 2015.
Ireland's Local Development Companies deliver extensive social and community supports services such as LEADER, Local Employment Services, the national social inclusion programme (SICAP), Tús, Rural Social Scheme, social enterprise supports and a myriad of other community and rural development programmes etc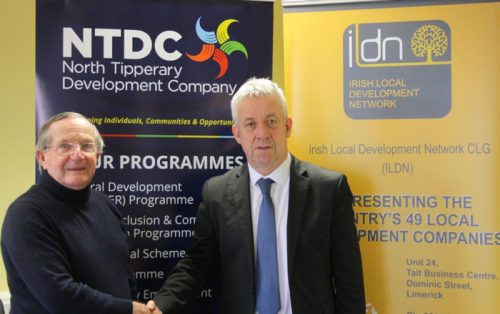 With over 2,100 employees and 9,500 Tús & RSS workers on the ground supporting over 15,000 community groups and 173,000 individuals annually through €300+ million of state-funded programmes, the ILDN network of companies is the largest Community Development/Anti-Poverty Network in the state.
Their distinctive role is to promote area-based, integrated community-led interventions based on participative democracy to address long-term unemployment, economic marginalisation and social exclusion.
Jim is conscious of the many challenges facing Local Development Companies in the coming years,
"There have been many positive, recent policy developments such as the publication of a national social enterprise strategy and Sustainable, Inclusive, Empowered Communities but many of our communities and disadvantaged groups are still reeling from the impact of disproportionate cuts over the past decade."

"Key priorities for the sector include an increase in social inclusion funding, protection and extension of community-based employment services, adequate resourcing and simplified design of rural funds including LEADER. The climate action challenge can also benefit from the bottom-up community engagement approach of Local Development Companies."

"Within our own sector, there is an urgent need for consistent core funding for the Local Development Companies who are the primary delivery agent of much of the state's response to unemployment and social exclusion.

"I am also particularly conscious that our companies are governed by volunteer-led boards and I look forward to the full implementation of the 'Sustainable, Inclusive and Empowered Communities' strategy with appropriate supports for the voluntary, bottom-up approach that is so vital for our communities."
Jim Finn paid tribute to his predecessor Marie Price Bolger,
"Marie led the network through a period of very significant funding and policy challenges. She served the organisation and the sector with great dedication, energy and fairness."
ENDS
For follow-up:
Joe Saunders, ILDN Manager joe@ildn.ie / 087 937 9572
Jim Finn, ILDN Chairperson jimfinnhome@eircom.net / 086 603 7222