1,935 deliveries of essential of food and self-care products and 1,720 deliveries of school meals in 8 weeks – over 1,000 families involved
A Community Response from Ballyfermot Chapelizod Partnership
The Covid-19 Coronavirus represents a completely unprecedented circumstance, as novel as it is life-changing. It has affected our communities profoundly and reminds us of our physical fragility, economic security and dependence on the support and solidarity of others in challenging times. For many individuals and families across the communities of Ballfyermot, Cherry Orchard and Chapelizod, daily routines have been largely disrupted and family, friends and neighbours have become increasingly isolated from one another.
A public health emergency of this magnitude influences how we think, what we value and how we work together to respond to and engage with the most vulnerable in our communities. During any emergency situation providing clear information, support and reassurance is paramount. The need for food and other basic supplies is also crucial where employment and incomes are suddenly lost and crisis pushes people towards the poverty line.
In response, Ballyfermot Chapelizod Partnership has taken on a central coordination role locally by launching a large scale food security service to the wider Ballyfermot area, prioritizing the needs of older people, those with underlying conditions, those affected by the virus, lone parents, vulnerable families and others experiencing financial or personal challenges.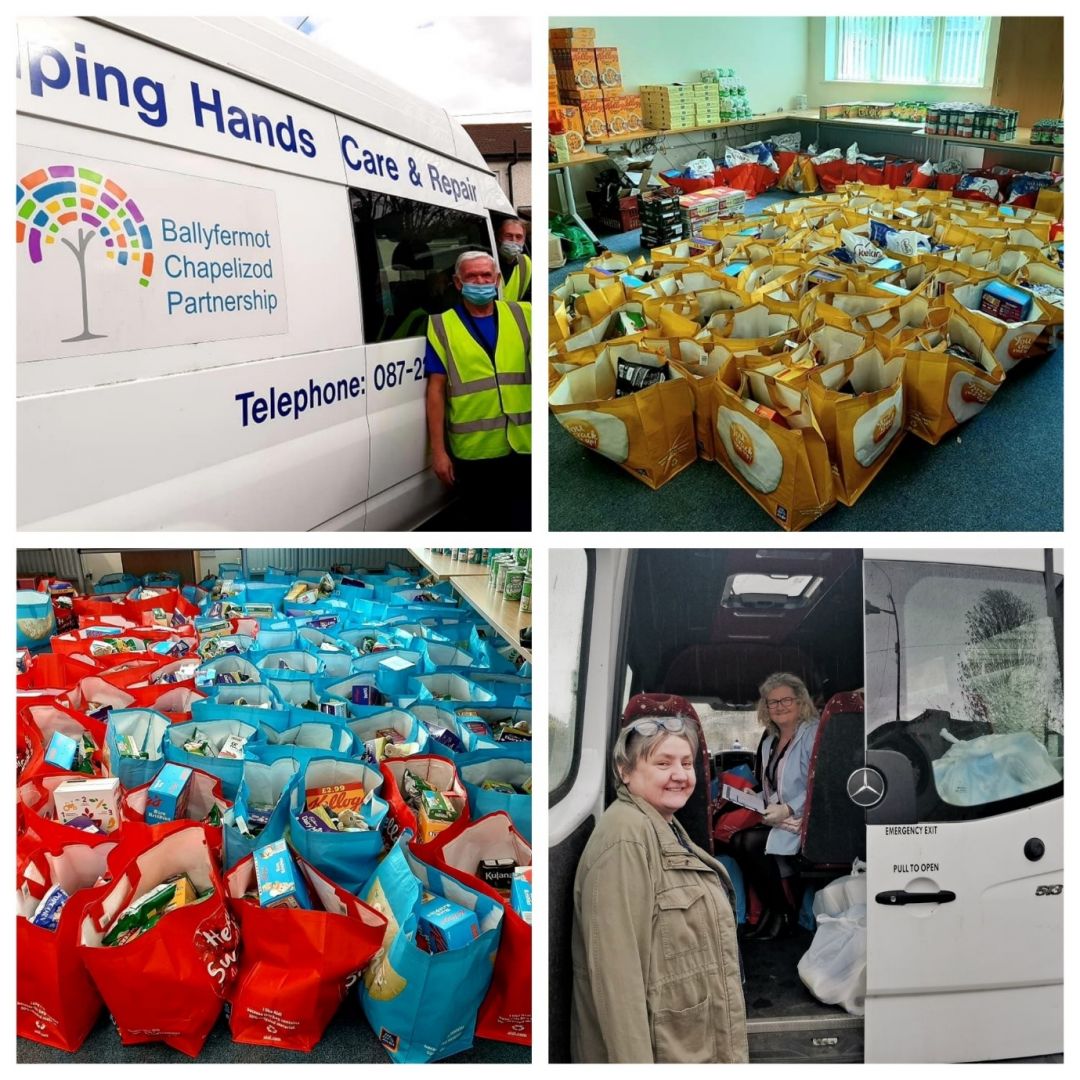 Early on it became apparent that a range of agencies including schools, DCC and various community & voluntary organisations had the means and willingness to provide support with food and basic supplies however such an operation has required an integrated approach in order to avoid duplication ensure the widest possible reach. BCP have been able to rely on the kindness and generosity of the local community and beyond to support our efforts through food donations and volunteering. To date many local businesses and organisations have offered their services, support and cooperation. The community response, led by BCP has involved collaboration with the Dublin City Council, St Vincent De Paul, the local Gardai, De La Salle GAA Club and other local organizations including Familibase, Ballyfermot Star, Ballyfermot Advance, Ballyfermot Youth Service and WHAD. Key to the coordination of the project was the design of a centralised CRM system to which all agencies (with consent) share information regarding the households they are supporting and deliveries to ensure a coordinated response. This provides a birds eye view of supports provided in the area and assists in identifying those who may otherwise have 'fallen through the cracks'.
BCP has acquired weekly donations of food from companies such as Glanmore Foods, Musgraves, Food Cloud, St Dominic's Shopping Centre in Tallaght, local Ballyfermot grocery store Coyle's and Cheeverstown House in Templeogue. The food BCP are dispatching is both healthy and long-reaching. It include parcels of basic staples i.e. coffee, tea, cereals, tinned and other long-lasting foods and perishable foods such as sausages, rashers, eggs, milk, bread, fruit and vegetables and on occasion, chocolates and biscuits, to bring a little joy!
Efficient supply chain management capability from donating companies coupled with a strong network of community-based partners and volunteers has ensured that food parcels and other personal care packs have found their way to the most-needy and potentially unreached people in the local community.  To this end, BCP has a dedicated team of phone support, food packers and delivery drivers who are all BCP staff and volunteers along with other volunteers from community groups who have offered their services to help the community response.  All deliveries are carried out by Garda Vetted staff and volunteers who are experienced in working with vulnerable adults. It was vital to BCP in designing our supports that a brief welfare check is carried out at the time of delivery. For many isolated members of our community this simple human interaction is as important as any supplies being provided. Food and other items are transported through use of BCP vans on the road and minibuses provided by local organisations, Ballyfermot STAR, Ballyfermot Youth Service, the Matt Talbot trust and the Equine Centre.
At time of writing 1,000 unique households have been referred for food security supports from a variety of agencies including schools, Tusla, Barnardos, HSE mental health, social work, addiction services and others. As of May 20th, BCP working with the local community has made 1,935 deliveries of essential of food and self-care products and 1,720 deliveries of school meals from the central hub in its main Drumfinn Office in Ballyfermot. The food bank operation commenced on the 30th of March 2020 and it is envisaged that it will continue to operate until late June in line with the Roadmap Plan for the lifting of Covid-19 restrictions.
In addition to our food bank, Ballyfermot Chapelizod Partnership are also committed to carrying out personal shopping for individuals who are unable to leave their homes during the emergency. The goal of our community response goes beyond food. It has a presence in the community that provides much more than meals. With our volunteers, partner organisations and companies, we are bringing hope to those in need during the emergency and those who are most isolated. Alongside the provision of basic supplies, the supports provided by BCP during this time are evidence of our on-going commitment to social inclusion and human welfare in the communities that we serve.
A word from the Community ……
"Really appreciate you guys during this time. Your food parcel was such a help. Thank you everyone"
"Massive achievement. Your efforts and hard work is deeply appreciated by all the community"
"Fantastic community effort in Ballyfermot during these strange times. Well done everyone involved"