Cavan County Local Development (CCLD) the Local Development Company for county Cavan has responded to the needs of communities during the COVID-19 crises through a range of supports such as coordinating a county wide Food Bank initiative, a county wide Meals on Wheels service and a county wide volunteer programme while still delivering its core programmes.
The highly publicised county wide Cavan Food Centre initiative was conceived on March 21st as a result of providing support to a local secondary school in the disadvantaged town of Belturbet with CCLD staff packing food parcels in its outreach office in the town and Civil Defence then distributing Food parcels to disadvantaged families locally who were accessing a Food Cloud initiative prior to school's closure.
After discussions with Cavan County Civil Defence and An Garda Siochana it was determined that a Food Centre initiative could be established in other locations where staff of CCLD could source, coordinate and pack food parcels while Civil Defence and An Garda Siochana would undertake the collection and delivery of food to designated centres around the county and from there deliver to people's homes. The staff from CCLD have been deployed from the SICAP, LEADER and Tus programmes.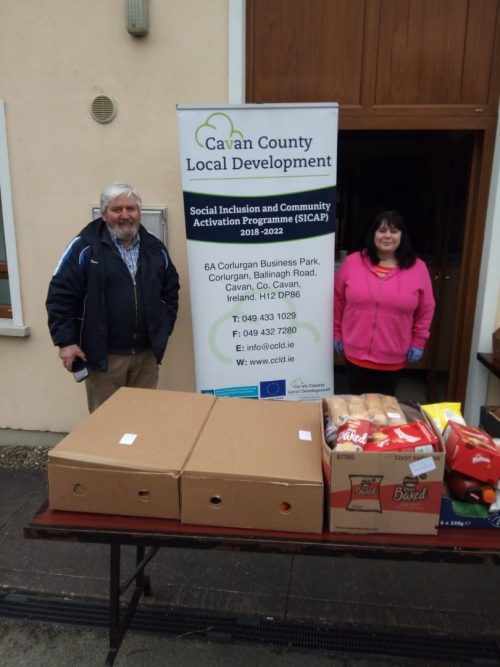 Staff from CCLD engaged with Food Cloud in Dublin along with local food producers and wholesalers given the county's strong Agri Food sector as well as local supermarkets such as Tesco, Aldi and LIDL. The response from these suppliers was very positive and within two weeks 7 Food Centres were established providing reach to deliver food parcels across the entire county.
Other partners were invited to support Cavan County Local Development including the Family Resource Centres, Cavan PPN, Town Teams, Cavan County Council and a number of volunteers. The initiative caught the attention of the local media and once the service became publicised demand for the service grew exponentially from the 45 parcels that were delivered on week one to over 600 parcels per week. The Food Centre initiative caught people's imagination as a positive response to the crises and was featured on RTE six o'clock and nine o'clock news as well as the Pat Kenny Show on Newstalk. Currently the service receives referrals through the COVID-19 Community Response Helpline, Public Health Nurses as well as direct calls from households needing support.
As the country is making plans to gradually exit from lockdown CCLD staff from the Social Inclusion & Community Activation Programme are actively engaging with each household to provide a range of tailored supports to ensure a dependency mind set is not established and that the issues that have created this food need for them can be tackled by developing an action plan so that each household can strive towards self-sufficiency.